John Lloyd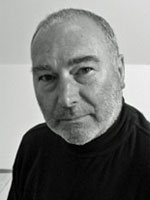 John Lloyd is a graphic designer and founding partner of the international design consultancy,
Lloyd Northover
.
Loyd started his design career in 1960, as an apprentice lithographic artist in the printing industry. He began full-time study in 1964, first at South West Essex School of Art and in 1965 at the London College of Printing. On graduating in 1968, he joined
Allied International Designers
(AID) leaving in 1975 to found
Lloyd Northover.
Loyd has been a teacher and examiner at the London College of Printing (now the London College of Communication), an examiner at Nottingham Trent University, and a D&AD jury member. He was Chairman of the British Design Export Group from 1983-85. With fellow designer,
Jim Northover
, he has won many awards, including the Grand Prix in the International Design Effectiveness Awards, and the International Gold Award at the New York Art Directors Club. He has worked around the world and has spoken at conferences in Europe, North America and Asia.
Today, Loyd is an independent design consultant, artist, and writer.
Source:
http://www.johnlloyd.uk.com
Logos by John Lloyd: