Rob Janoff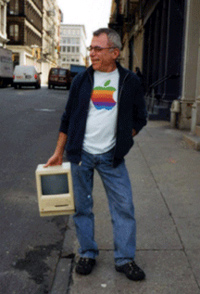 Rob Janoff is a corporate logo and identity graphics designer, He is also a designer in the field of printed advertisements and television commercials.
The most famous creation by his hand is probably the rainbow Apple logo of 1976, which is still the basis of Apple's logo today. In 1976 Janoff worked as an art director for Regis McKenna where he created the logo, the apple with a bite out of it.
Janoff also created ads and printed materials for Apple. He also did design work for both IBM and Intel.
Logos by Rob Janoff: