Michael Wolff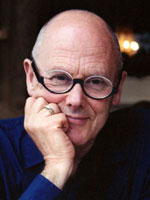 After a training in architecture, working as a product designer, then as an interior designer and as a graphic designer, Michael Wolff decided it was time to start his own company. And in the autumn of 1964, he joined up with Wally Olins in Camden Town, London, and
Wolff Olins
was born.
Under Michael's creative leadership, Wolff Olins became the foremost European company in 'corporate identity' - and one of the most effective branding companies in the world. Among their clients were Audi, Apple (the Beatles, not computers), P&O, Renault, 3i, Pilkington and Volkswagen.
He left Wolff Olins in 1983 to lead the Addison design company. Clients there included London Underground, The high speed train in Spain, The Barcelona Olympic Games, BP, Jaguar and Shell. Michael now runs Michael Wolff & Company in London, England.
Most recent clients have been and are 3i, Mothercare and the Ministry of Sound in the UK, and Citibank and Citigroup in the US.