Lance Wyman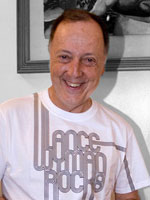 Wyman (1937) was born in Newark, New Jersey and lived the first 19 years of his life just across the Passaic River in Kearny. Wyman's father ran a commercial fishing boat and he spent time on the Atlantic with him during grade school years. Kearny was an industrial area and Wyman worked in the factories during the summers to pay for his college tuition. The
no-nonsense
functional aesthetic of the sea and the factories have been an important influence in Wyman's approach to design.
In 1960 Wyman graduated from Pratt Institute in Brooklyn, New York with a degree in Industrial Design. At that time graphic design was a European influence that was just being introduced in American universities at the graduate level. When Wyman met a student who studied logo design with
Paul Rand
at Yale, He knew he wanted to design logos.
Wyman started his career in Detroit, Michigan, first with General Motors, and later with the office of William Schmidt. At General Motors he designed the packaging system for their Delco automotive parts that unified 1,200 different packages. At the Schmidt office Wyman did the graphics for the 1962 USA Pavilion at the trade fair in Zagreb, Yugoslavia. The theme of the exhibition was 'Leisure Time'. He devised an hourglass logo with a sun and moon image in the top and used it as a gateway to the exhibit. It was his first experience integrating logo design into a three-dimensional environment.
But Wyman is probably best known for his logo design for the 1968 Olympics in Mexico.
Be sure to check out Lance Wyman's very simple and functional website at:
lancewyman.com
Logos by Lance Wyman: