Allan Robb Fleming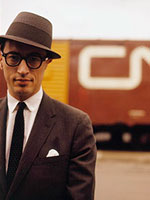 Allan Fleming (1929-1977) was a Canadian graphic designer best known for having created the Canadian National Railways logo.
Born in Toronto, Ontario, he was Vice President and Director of Creative Services at the typographic firm Cooper and Beatty Ltd. when he designed the new CN logo in 1959. In 1962, he became art director for Maclean's magazine. From 1963 to 1968, he was director of creative services at MacLaren Advertising. From 1968 to 1976, he was the chief designer at the University of Toronto Press. He helped co-found Burns, Cooper, Donoahue, Fleming and Company.
He was the first Fellow of the Society of Graphic Designers of Canada and a member of the Royal Canadian Academy of Arts.
Source:
http://en.wikipedia.org/wiki/Allan_Fleming
Logos by Allan Robb Fleming: