Color Selected Logos
Below you see an image color map of a lot of major corporate company logos. It is remarkably a lot of logos all have the same colors. You a lot of primary colors are used in corporate logo design. This is to be identified as strong and clear.
The Battle For Blue
COLOR SPACE: The Coolest Shades in Corporate America
By Michael Rock

Companies spend millions trying to differentiate from others. Yet a quick look at the logos of major corporations reveals that in color as in real estate,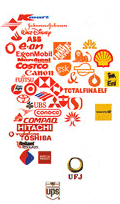 it's all about location, location, location. The result is an ever more frantic competition for the best neighborhood. Here's a look at the new blue bloods.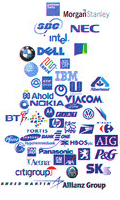 The images on this page appeared in Wired (June 2003) and is copyright ©1994-2002 Wired Digital, Inc. All Rights Reserved.

[ This article is under construction ]